Setup API key
After getting an API access key from https://tc.api.canada.ca/en/detail?api=VRDB, the key needs to either be set in the environment (as VRD_API) or passed as an argument into each caRecall function.
To check if the VRD API key is in the environment, the following caRecall function can be used:
If the key is in the environment as VRD_API it will return the key value. If not, the function will return an error that the key is not set. The key can be set in the environment using Sys.setenv(VRD_API = "YOUR KEY HERE"). Once it is set, you should be able to leave the api_key argument empty in a caRecall function call.
Getting Data from the VRD
Lets say we want to look in the VRD for the companies that had the most recalls with the items they manufactured in the year 2000. Fist we could see how many items manufactured in 2000 were recalled in the database.
We could then query the database for the summary information associated with these recalls.
Note that we also could have also just set the limit argument to a high enough value that all entries in the database would likely be included in the summary information query; however, this could also result in returning a very large dataset if the number of available entries is very high.
We can count the number of recalls for each company by grouping on the Manufacturer name column and summarizing the count. We'll only look at manufacturers with recall counts above 50.
There are 11 manufacturers with greater than 50 recalls for products manufactured in 2000.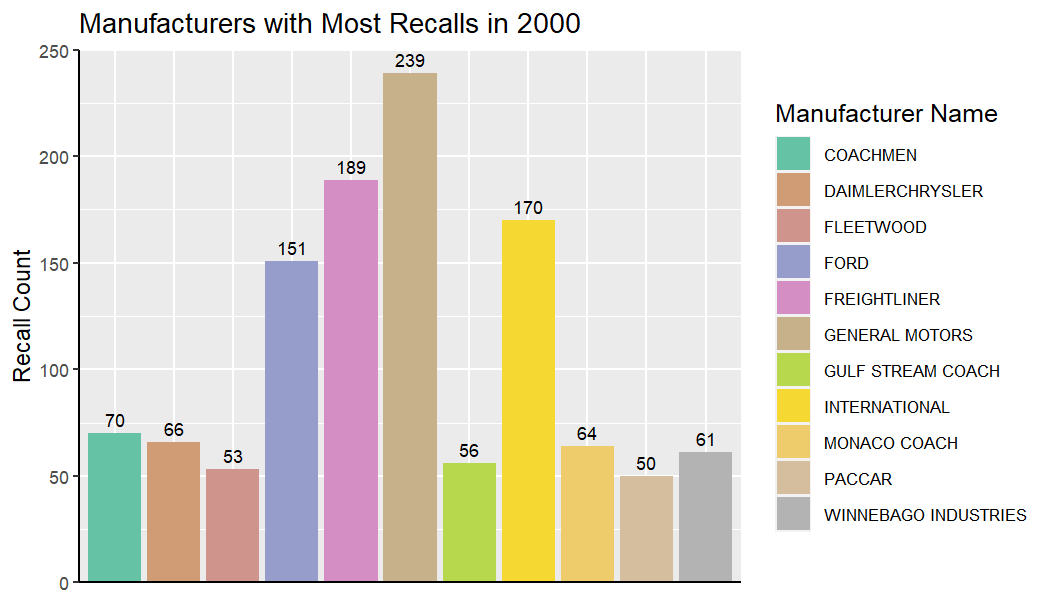 We could also look at how many recalls two manufacturers have had compared with each other over the over the last 10 years (2011 to 2020).
We would start by querying the API for entries with the two manufacturers. This time, we'll just set the limit to be reasonably high instead of checking the count available in the database first.
We can then plot the total amount of recalls for each year grouped by manufacturer.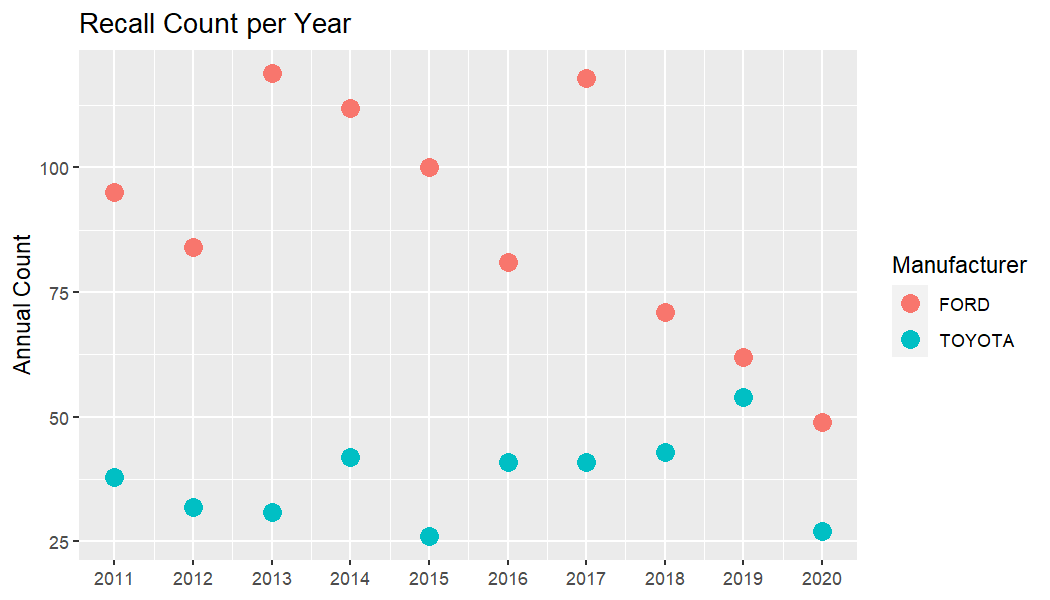 The plot shows a much lower number of recalls in 2020 for both manufactures; however, this is likely because there has not been sufficient time for recalls to have occurred on more recent products.